The Dental Clinic

We provide luxurious services at affordable prices in the most picturesque part of Budapest in the Castle District
We combine the experience of 25 years with the most modern methods of the twenty-first century
We use metal-free biocompatible materials
Our excellent organisation enables us to provide reliable services
We will compile an individual plan of treatment tailored to your personal requirements (parodontological, gnathological, cosmetic, prosthetic and surgical)
We provide artistic restorations of an outstandingly high quality
We provide dental-technical work of the highest quality produced by master technicians to the tightest of deadlines
We guarantee our treatments
We answer your emails promptly
Our clinics
Not only we provide a full range of dental treatments at the Dental Clinic, we also provide a high level of care for the patient's physical and mental health. The Professor regards concern both for his profession as a dentist and for the well-being of his patients as essential to his practice. As the success of his clinics increased, it became necessary for him to engage more dentists. Three dentists are there to treat the patients in both our clinics. The director, however, demands the same high level of commitment from assistant dentists as he does from himself. He is anxious to encourage efficient, accurate and gifted young dentists, who work rigorously.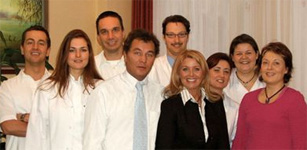 The Clinic-Vár is situated in the Buda Castle District, close to the Matthias Church and the Fisherman's Bastion. Here a professional team of first-class dentists, dental assistants provide our patients with an excellent service. In both surgeries patients are offered a range of high quality services, including tooth whitening, filling, prosthesis, oral hygiene, dental surgery and supplementary treatments.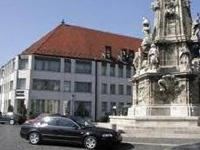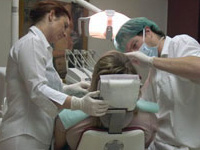 In the baroque-style Clinic-Csalogány clinic wait and are treated in a pleasant and friendly environment. Our dentists treat their patients using the most up-to-date dental equipment and computer technology.