Mátyás Pince Restaurant
Mátyás Pince / Matthias Cellar Restaurant - named after great Hungarian Renaissance ruler Mátyás - was founded at the foot of Elizabeth Bridge on the Pest side way back in 1904. It is famed far and wide for its inimitable Hungarian flavours (for instance, authentic fish soup, Dorozsma carp, Matthias platter, strudels) accompanied by the finest wines of the country and Gypsy music performed by members of the Lakatos dynasty at midday and in the evening. Beautiful stained glass windows and frescoes - the work of artists Jenő Haranghy and Gyula Bozó - recount scenes from the life of King Mátyás. Waiters and waitresses serve at table dressed in period costume.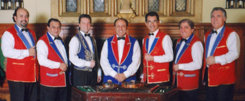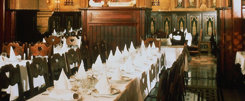 Music: Sándor Déki Lakatos and his Gypsy orchestra daily at noon and in the evening
The Mátyás Pince / Matthias Cellar needs no introduction; after all, it represents one of the most prestigious hallmarks of excellence. Local connoisseurs as well as gourmets who travel from distant lands to visit us know full well what the name represents in Hungarian culinary circles. In just a few words: authentic, warm Hungarian hospitality. Matthias Cellar's inimitable, eternal secret is preserved in its historical milieu and bewitching art of cooking.
Recommended for all who
seek an unrivalled culinary experience
wish to give their foreign business partners and guests a truly memorable experience
are planning to make their event absolutely unique through a superb display of flavours and spectacle.
Mátyás Pince / Matthias Cellar Restaurant, ideal for
partner discussions, business meetings, delegations
receptions and parties
events bringing together families and relatives
and not only in the Matthias but at outside locations too!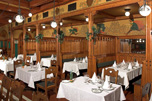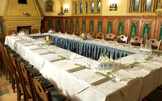 Extra
waiters/waitresses dressed in authentic period costume
flower arrangements, cocktail bar, chauffeur service to order plus accommodation in one of the 85 comfortable rooms at City Hotel Mátyás***.